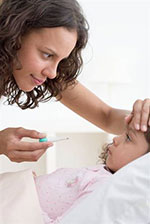 Laws exist to provide job protection for employees who need to be absent from work because of the employee's serious health condition, the birth and care of the employee's child, and/or the placement of child through adoption or foster care with the employee. These laws can also provide for leave for an employee to care for specified family members who have a serious health condition.
While some persons may know of the federal Family and Medical Leave Act ("FMLA"), (29 U.S.C. § 2601), California has enacted its own family and medical leave law entitled the California Family Rights Act ("CFRA") (California Government Code § 12945.2.) FMLA and CFRA are similar in some respects but they also have differences.
CFRA establishes rights for eligible employees to take up to twelve workweeks of unpaid leave in a twelve-month period for: (1) child birth for purposes of bonding; (2) placement of a child in the employee's family for adoption or foster care; (3) the serious health condition of the employee's child, parent or spouse; and (4) the employee's own serious health condition. The timing, length and the manner of using CFRA leave will vary depending on the particular situation.
To be eligible for CFRA leave, a person must: (1) have been employed in California; (2) have worked for a CFRA-covered employer for more than 12 months (52 weeks); (3), have worked for the covered employer at least 1,250 hours in the 12-month period before the date the leave begins, and (4) work at a location in which the employer has at least 50 employees within 75 miles radius of the employee's work site. Whether or not these requirements are met is not always clear-cut and they need to be analyzed on a case-by-case basis with a proper understanding of both CFRA's terms and the court decisions interpreting CFRA.
If an eligible employee is granted CFRA leave, CFRA imposes obligations on a covered employer concerning the continuance of health benefits that it provides to the employee under any group health plan during the period of the employee's CFRA leave. CFRA also creates protections for the employee pertaining to seniority accrual and continued participation in other employee benefit plans.
An employee is afforded a right to reinstatement to the same or comparable position at the conclusion of the CFRA leave subject to certain exceptions.
It is an unlawful employment practice for a covered employer to violate an eligible employee's CFRA rights. This includes prohibitions against: refusing to hire, discharging, fining, suspending, and/or retaliating or discriminating against an employee for exercising his or her rights under CFRA.
There are leave laws in California such as the Pregnancy Disability Leave Law ("PDDL") and the California Paid Family Leave that may intersect with CFRA leave in certain scenarios.
Contact our office today to speak with a lawyer if you believe that you have been denied CFRA leave or if you have suffered discrimination or retaliation for exercising CFRA rights.